Iran Pomegranate,Iranian Pomegranate,Pomegranate Fruit Supplier & Exporter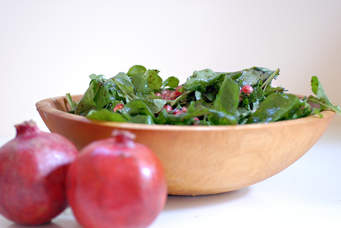 Ingredients:
225 gram/ 1 ¼ cup frumenty
2 leek plants
1 chili plant
1 celery stalk
30 ml/ 2 tablespoon olive oil
2 limes
8 scallions
6 tablespoon fresh mint
6 tablespoon fresh parsley
1 pomegranate
Salt and pepper

Method:
1-    Pour cold water and frumenty in a bowl and wait for 30 minutes.
2-    Drain the frumenty and press them with spoon to separate them from water.
3-    Chop leeks, chili, celery stalk, scallions, mint and parsley. Grate lime skins and take lime juice.
4-    Mix all the ingredients and wait for half an hour. The salad is served with bread and lettuce.